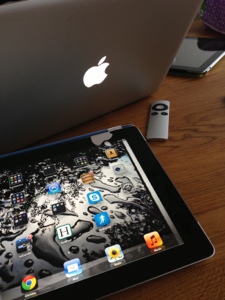 Jag är en prylgalning! Jag erkänner det.
Det finns ett värde i att ha koll på de senaste prylarna. Skillnader på modeller och prestanda finns det oändligt att lära sig om i handböcker, manualer och user guides. RTFM, Read The F-ing Manual, ser jag som en möjlighet och inte en uppmaning att inte störa någon med triviala frågor om funktion eller användande.
Jag har samma angreppssätt vare sig det gäller fruktsalladen på skrivbordet eller mina kajaker och andra prylar. Det finns ett värde att ha schyssta prylar och veta om vad som passar bäst i olika sammanhang. Nördigt? Javisst! Korkat och slav under marknadskrafterna? U bet, and I luv it bigtime!
Never trust the guy with shiny gear!
Jag drivs av att använda mina prylar. Jag vill kunna alla funktioner och veta hur jag får ut det mesta möjliga. Jag tycker det är kul att använda saker och veta vad de tål. Jag tycker det är roligt att visa andra vad man kan göra och hur roligt det är att utnyttja prylar, kunskap och omgivning till max.
När jag höll på med dykning fanns det ett talesätt om vad tekniska dykare tyckte om förutom att dyka:
1-Talk about dive gear
2-Fiddle with tech dive gear
3-Look at tech dive gear
Stämmer dessvärre skrämmande väl på mig och en mängd andra med ett hälsosamt prylintresse.